Cattle and animals
Our animals
Fire-red Cattle
You recognize the fire-red cattle by it's darkred / brownish color with white marks. The cows are mediumsized. They are quiet, calm animals. The animals are very well able to adjust to diversified wheather conditions. This way they can stay outside all year.
We have chosen this breed especially because of the social character. Our approximately 40 fire-red cattle at the estate nearby. Here they have a lot of space and natural habitat. We have the cattle for its meat.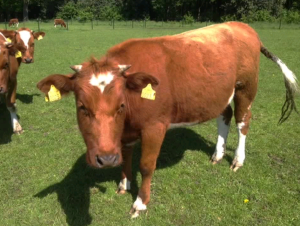 CHICKENS
Dekalb laying hens
Boerderij 't Paradijs houdt 9.000 biologische leghennen van het ras 'Bovans Brown'. Dit ras legt veel egaal bruine eieren met een sterke schaal. Het zijn sterke en sociale kippen. Op 't Paradijs hebben ze een uitloop van minimaal 4m2 per kip. Er is ruimte om zowel binnen als buiten te scharrelen. De productie en verzorging is geautomatiseerd. De eieren worden dagelijks via een lopende band verzameld, van een stempel voorzien en in trays geplaatst.
Boerderij 't paradijs keeps about 9000 organic laying hens from the breed Dekalb. This breed is a white breed and they lay white eggs. This breed, in comparison to others, produces white eggs while using less effort(less feed, water, minerals) for the exact same egg. This breed also has a longer producing lifespan than regular breeds. On the farm they have a big free-range spout which contains a minimum of 4m2 per hen. there is room for the chickens to roam either indoors or outdoors. The production and care is fully automised. The eggs are collected every day through a assembly line, provided by a original stamp and are catched in a tray. Ready for sale!
Voor het houden van deze kippen hebben wij 'leaserechten' nodig die wij elk jaar moeten kopen. Ook is het erg belangrijk ze gezond te houden door regelmatig het leefklimaat te checken, de dierenarts op bezoek te laten komen en verschillende inspecties te laten komen. Wij hanteren de criteria voor biologische kippen en eieren.
Keeping these hens require lease rights. which we have to buy each year. it is also very important to keep them healthy by maintaining the life environment of the chickens, hosting animal vets and performing the right inspections to the stable and the animals. We're handling the the criteria according to SKAL-legislations for organic laying hens and eggs.
PIGS
In our pig stable we host about 80 pigs. when they're large enough, they are taken away and processed into meat which we sell on our farm. the pigs live in small groups together and have the ability to stay indoors or go outdoors.
For the pigs we require lease rights which we have to buy each year. The health and living environment of the pigs is accurately monitored and pursued by us and SKAL. We manage this by the criteria for organic livestock farming for pigs from SKAL.